Two exhibition catalogs were made for the 2020 & 2021 MFA in Visual Arts program at Washington University at St. Louis. Due to the ongoing COVID-19 virus, both exhibition showings were closed off to the public and catalogs were created. The catalogs provide an alternative way to see everyone's artwork, documenting the creations of each individual artist in the space that they were displayed in. Using neon colors to emphasize and differentiate each class, both catalogs were packaged into a transparent envelope and mailed out.
---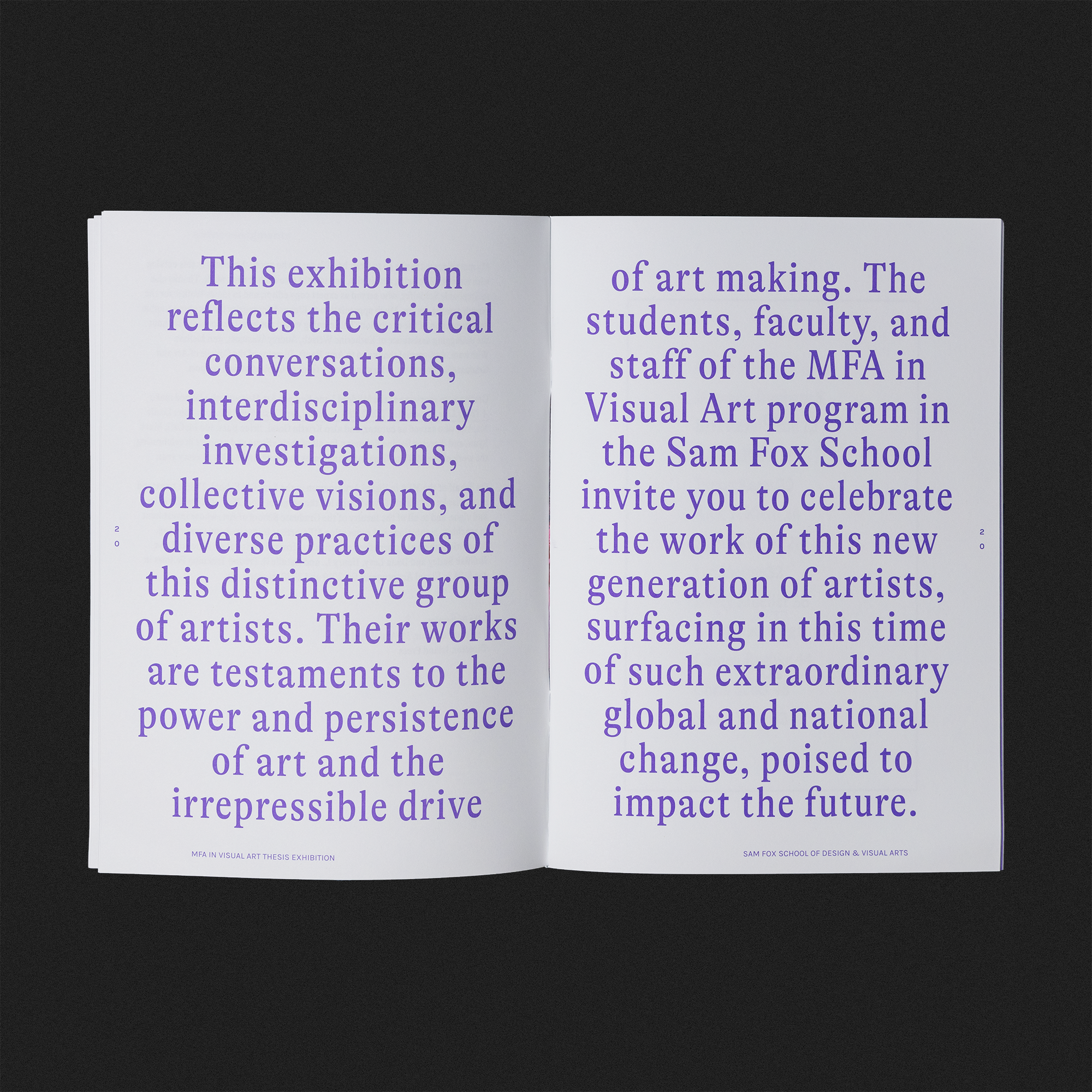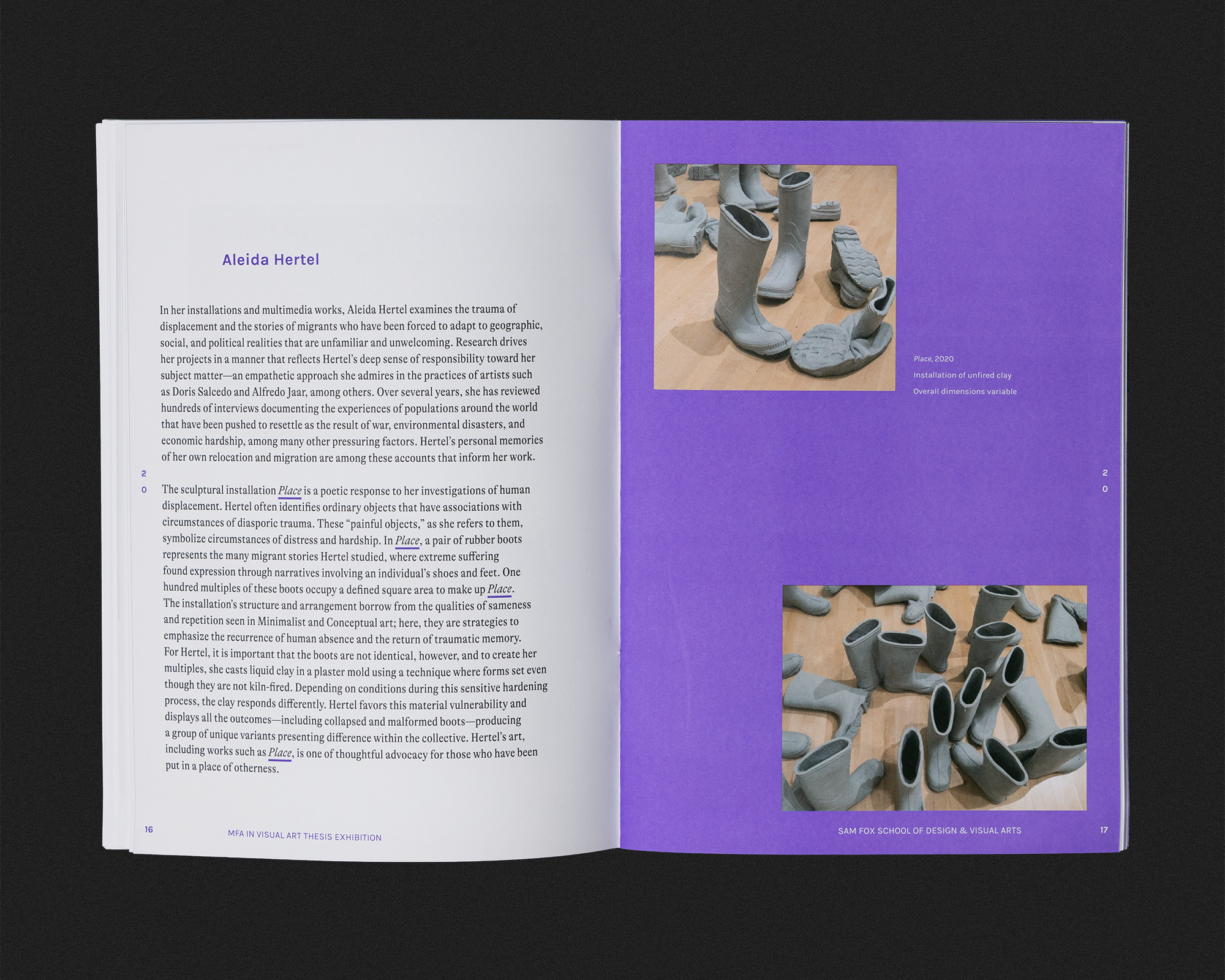 Brand + Identity
Packaging
Web Design
Art Direction
TUMBLEWEED is a speculative recreational cannabis brand located in Austin, Texas. Influenced by Austin's unique, creative, and friendly western culture, Tumbleweed's mission is to provide quality cannabis in a safe, sustainable, and enjoyable way.

VISIT THE SITE
---
Illustration

Made with
Trace Element
Ginger is a mental health service that provides behavioral health coaching, therapy, psychiatry, and self-care resources, all from the privacy of a smartphone.

I illustrated a series of spot illustrations under their brand style that is featured alongside their resources and services.
---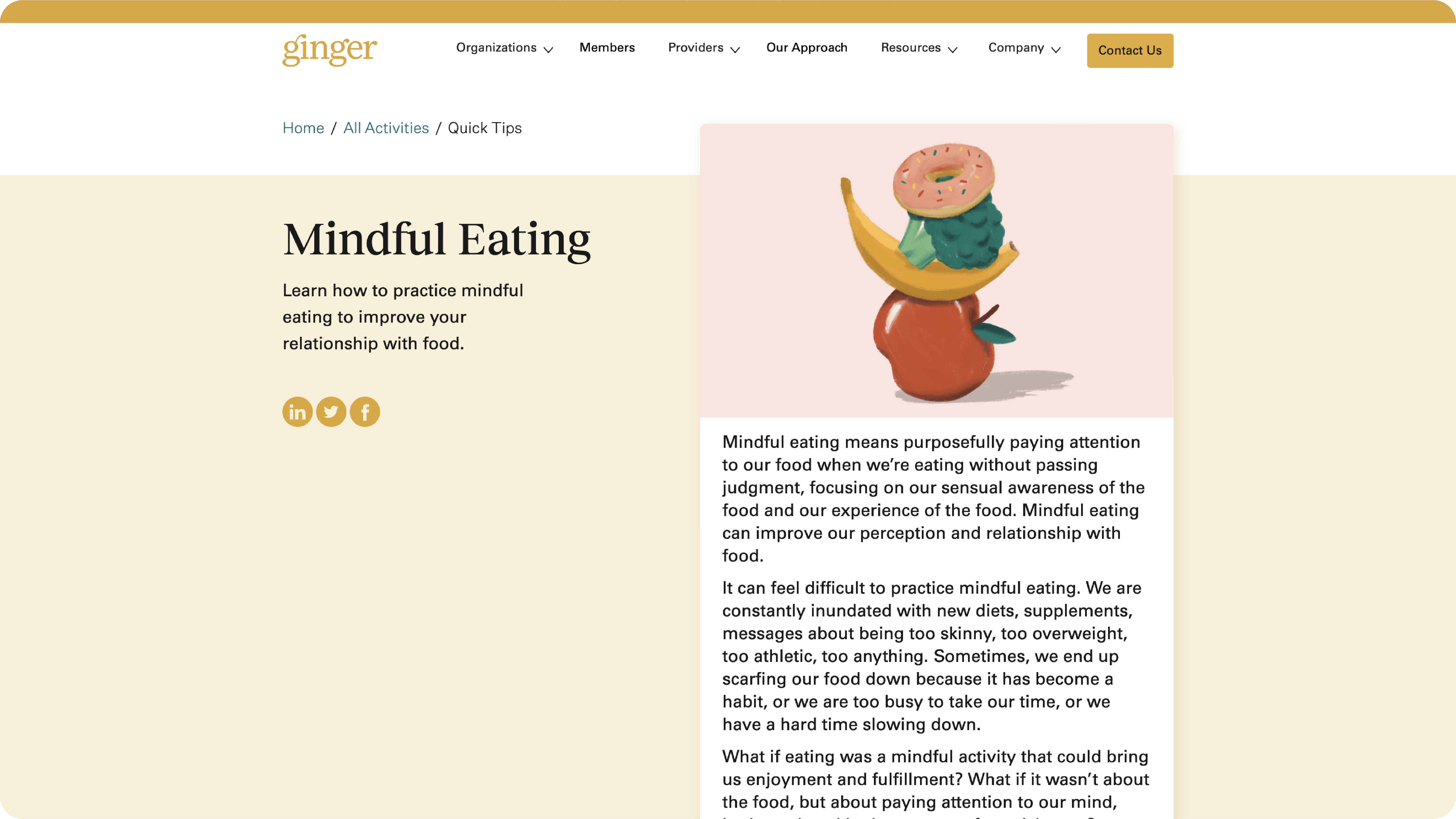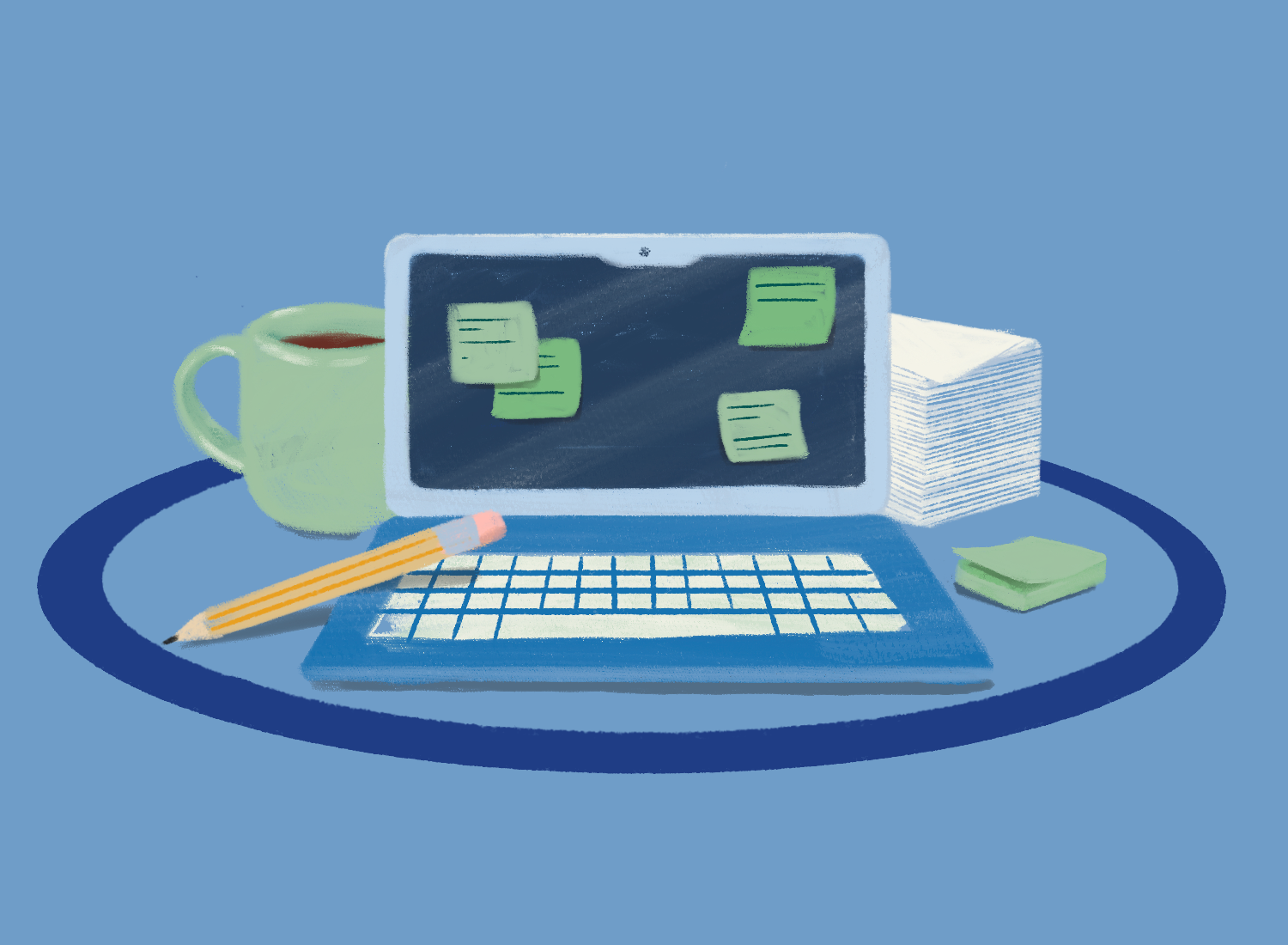 UFOria! PRESENTS:THE UFO SHOW
Typography
Lettering
Illustration

A typographic poster that pays homage to the psychedelic rock shows of the 60's. The poster features UFOria, a display modular typeface made out of only 7 shapes, arranged to create this experimental poster.

It was inspired by a real club during the counter-culture scene in London called the UFO club (pronounced "you-foe") that produced light shows, poetry readings, and rock acts. This lineup includes The Social Deviants, Pink Floyd, and the Smoke playing at Blarney Club on April 20th, 10PM. You just had to be there.
---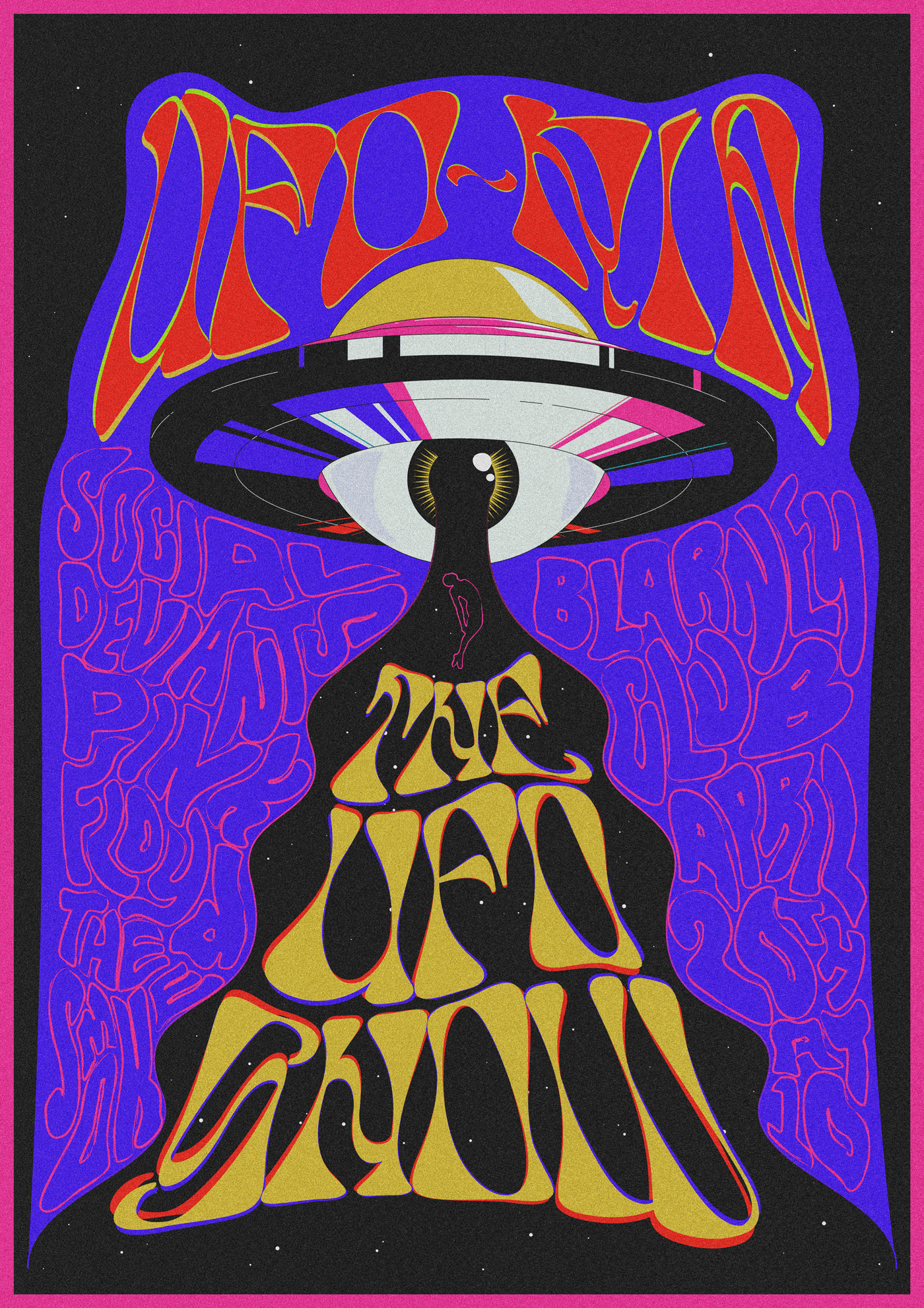 Brand + Identity
Web Design Social
ATX Television Festival is an annual event based in Austin, Texas that celebrates the wonderful medium of Television. Every year, the festival connects fans to the industry through conversations about the past, present, and future of television. ATX TV facilitates impactful discussions about all aspects of the industry through Q&As, special screenings, cast reunions, and panels to experience television as one community. One of the few festivals in the US that focuses on the television industry, ATX TV prides itself as being a unique experience for TV lovers made by TV lovers.

After having a conversation with Caitlin McFarland and Emily Gibson, the founders of ATX TV, we decided to create a system that has an established personality, reflects both industry and fan, and emphasizes community and conversation.
---
I suggested clapperboards and scripts as inspiration for an identity system. These items are primarily used behind the scenes in the industry and people recognize, playing with ATX TV's idea of industry and fans. Even as we move through the digital age where even television is becoming obsolete and streaming services are on the rise, these items are still very present. The clapperboard and script are also timeless and fit in well with their motto of past, present, and future of television. The script itself also serves as a container for dialogue that drives stories and promotes important discussion, emphasizing ATX TV's idea of conversation and community.